Golf Simulator in Perth
The golf simulation is supplied by Sports Coach Simulator, which has developed one of the most amazing ranges of golf simulation products in the market for the last 26 years. These simulators are installed in locations of any size ranging from homes to enormous golf courses.
The high-speed camera technology is used in the golf simulator to replicate the swing path of the golf club, impact and the flight of the golf ball. So when you play, it feels like you are on a real golf course, which makes it an excellent tool for practising your swing.
The GSX 4K simulator software for golf from Sports Coach uses the most advanced graphics for the simulator and has an extremely accurate system for detection.
Players can play a round of golf or analyse the shots on the virtual putting green, virtual range or virtual chip. Customers can choose from 60 different golf courses, and Sports Coach is also developing simulators for 100 other courses.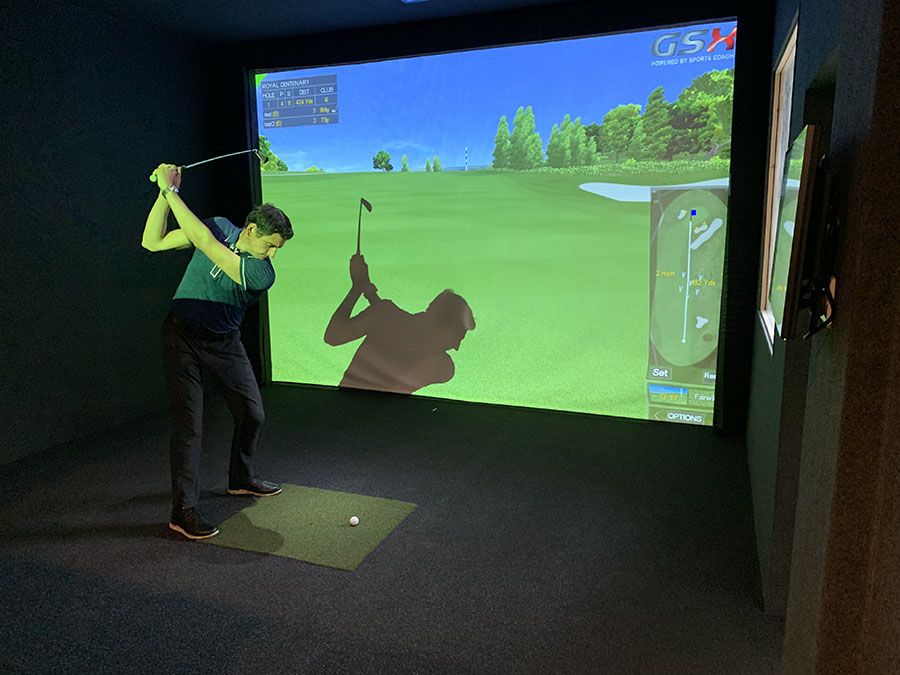 Golf Simulator interface
The Golf Simulator offers an easy-to-use new and improved interface allowing you to create players to match your playing style. You can select from Men's and Lady's Competition positions.
All clubs are provided on-site and are Callaway rogue clubs.
You can easily choose between right or left-handed player, choose a handicap and modify the system to calculate shots based on shorter or longer carry. There are also options to choose weather conditions, the number of holes and strength of the wind to decrease or increase the difficulty level of the game.
Special Offer £10.00 per person per hour - restricted to 3 players for social distancing
Golf Simulator Features
Other features include responsiveness of green hardness, putting alignment and stimpmeter. You can switch the measurement units between meters and yards, apply rough reduction and set the distance calibration of camera to less than 1 cm. By setting auto hole out, time limit, the perspective of ball fight, gimme distances, perspectives of ball trail and calibration of ball fight play can be modified.
You can also customise:
Time limit
Gimme distances
Auto hole out
Ball flight perspective
Ball trail perspectives
Ball flight calibration